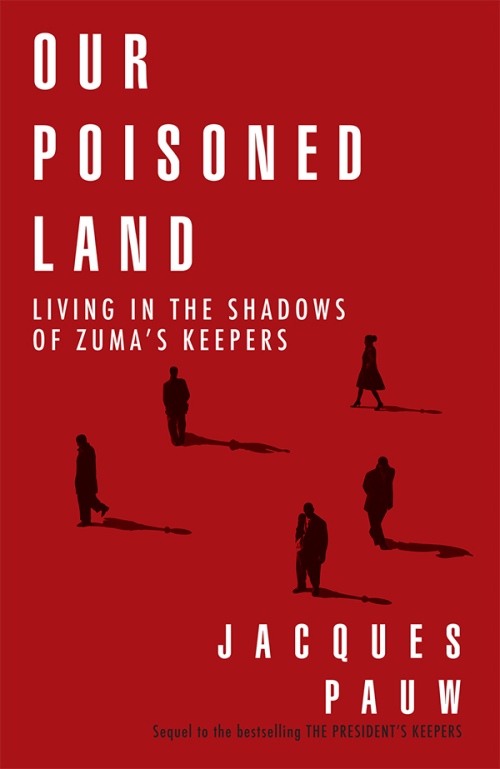 Two weeks after hitting the shelves Our Poisoned Land is in reprint
25 November 2022
---
PRESS RELEASE

Two weeks after hitting the shelves Our Poisoned Land is in reprint

Our Poisoned Land, Jacques Pauw's sequel to the bestselling The President's Keepers, is already in reprint. Released on 11 November, the book is topping the bestseller charts by a significant margin.
Eusebius McKaiser described it as "genuinely searing, factually detailed, fantastically analytical, and it even contains delicious sprinkles of dark humour".
Shaun de Waal of News24 said that the author "digs up the dirt, speaks to a lot of people, packages it together" and that it is "remarkable" that Pauw "manages to cover the ground he does in a mere 400 pages".
Three days after the release of Our Poisoned Land the EFF leader, Julius Malema, and his deputy, Floyd Shivambu, demanded that NB Publishers remove the book from the shelves, failing which they threatened to bring, among others, a court application to ban the book.
NB refused to remove the book and can confirm that no further legal action has been forthcoming.
Our Poisoned Land may be known as the book that "Malema does not want you to read", yet as McKaiser said in his review: "For me, the heart of the book is actually a devastating lament of lost opportunities, grand theft and sustained assault on the constitution by mostly ANC politicians and their immoral friends in the private sector."
Much of the book concentrates on the shocking state of the law-enforcement agencies and South Africa's failure to get to grips with serious and organised crime. The author meticulously details how generals, police officers, state prosecutors and intelligence officials that were implicated in the state capture project continue to occupy senior positions in South Africa's law enforcement agencies, without ever having faced any consequences.
The parlous state of the criminal justice system was confirmed this week when Bheki Cele released the crime statistics for the second quarter of 2022. Virtually every category of serious crime is skyrocketing. In just three months between April and June this year, 7 004 people were murdered – an increase of more than 20 percent compared to the same period last year.
The Deputy National Director of Public Prosecutions, Anton du Plessis, warned this week: "The criminal justice system is not keeping pace with this growing organised crime threat. And time is running out. Organised criminals are stealing our country and destroying our future. They must be stopped."
Our Poisoned Land is a warning that South Africa is on the edge of the abyss. Ramaphosa "now needs to change the course of this poisoned land. If he fails, we will again be at the mercy of the keepers."
Our Poisoned Land is available at all good booksellers.

Media enquiries: Jean Pieters [email protected]