WEN kinderboeke ter waarde van meer as R4500!
---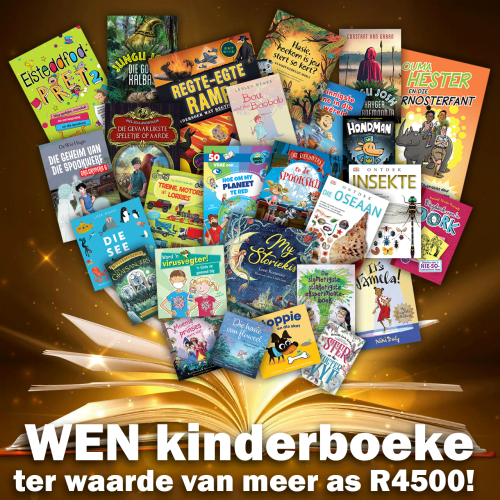 Competition
WEN kinderboeke ter waarde van meer as R4500! Ons wil een gelukkige wenner bederf met 'n vrag kinderboeke van Die hasie van fluweel tot Grilgrypers. Die prys sluit 'n allemintige 28 boeke in en bevat stories wat elke jong boekwurm se hart sal steel.
Die prys sluit die volgende wonderlike kinderboeke in:
Bau and the Baobab, Hasie, hoekom is jou stert so kort?, Moenie met 'n prinses mors nie!, Tjoppie en die skat, It's Jamela!, My groot boek oor treine, motors en lorries, My Storiekis, Die slymerigste, stinkerigste eksperimenteboek, Die hasie van fluweel, Word 'n virusvegter! 'n Gids vir gesond bly, 50 vrae oor hoe om my planeet te red, Die seerowers 1: Die seerowers en die spookskip, Die avonture van Speurhond Willem, Eisteddfod-pret 2, Grilgrypers 6: Die geheim van die spookwerf, Ouma Hester en die Arnosterfant, Die vinnigste skoene in die hele wêreld, Loer binne: Die see, Ster en die skugter vyf, Hondman, Dagboek van 'n dork 1, Bitterbosbende 3, Jungu Josh 1: Die goue kalbas, Jungu Josh 2: Die kryger van Aboemondja, Ontdek: Insekte, Ontdek: Die oseaan, Kies-jou-avontuur: Die gevaarlikste speletjie op aarde en Regte-egte rampe.
Bepalings en voorwaardes:
Die prys mag nie vir kontant omgeruil word nie. | Die sluitingsdatum vir die kompetisie is 30 Oktober 2020. | Die wenner sal op 2 November 2020 per e-pos gekontak word en moet binne 24 uur reageer om die prys te eis. | Die wenner se afleweringsadres moet in Suid-Afrika wees.

'Like' Storierak se Facebookblad, skryf voor 30 Oktober 2020 hiér in en staan die kans om te wen: