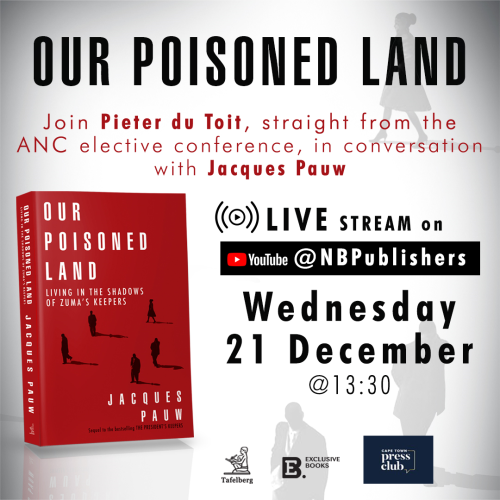 PRESS RELEASE: FOR IMMEDIATE RELEASE
19 December 2022
---
PRESS RELEASE: FOR IMMEDIATE RELEASE

Jacques Pauw and Pieter du Toit's conversation on 21 December, a day after the ANC elective conference, to be livestreamed.
Just days after Cyril Ramaphosa clinched his second term as ANC president, Jacques Pauw and Pieter du Toit will be in conversation with one another at Kelvin Grove in Cape Town. Pauw has written Our Poisoned Land while Du Toit is the author of The ANC Billionaires.
Our Poisoned Land topped the bestseller lists last Friday, for the fourth week in a row, while Du Toit's book remains in the top five. Both books have received rave reviews.
Du Toit will interview Pauw about Our Poisoned Land and will give an account of the current state of the ANC after its elective conference in Johannesburg. Pauw and Du Toit will debate what we can expect from Ramaphosa in his second term.
Will Bheki Cele and Gwede Mantashe stay on? And what about Eskom now that Andre de Ruyter has resigned? What is the future of the EFF if the ANC fail to get a majority in 2024? And can we expect more state capture prosecutions?
Join the livestream here: https://www.youtube.com/watch?v=XXxPF5QVJpw
OR
Book for the event with Lalage at [email protected]

Event details:
12:30 for 13:00, Wednesday 21 December
The Ballroom, Kelvin Grove, 144 Campground Road, Newlands
R300 for Press Club members; R350 for guests (lunch and wine included)
Signed copies of Our Poisoned Land will be for sale.
Our Poisoned Land and The President's Keepers are available at all good booksellers.


Media enquiries: Jean Pieters [email protected]