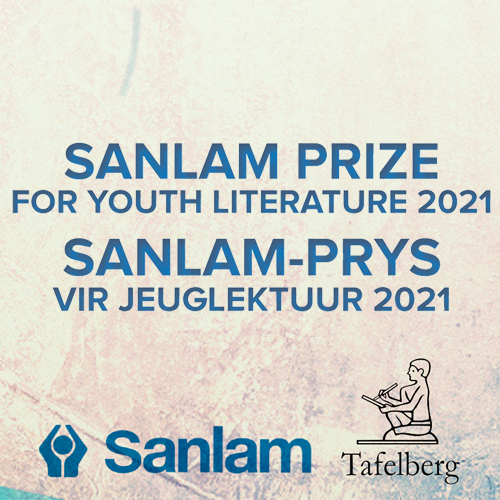 Wenners van Sanlampryse vir Jeuglektuur 2021 bekend gemaak
23 November 2021
---
Wenners van Sanlampryse vir Jeuglektuur 2021 bekend gemaak

Sanlam en Tafelberg, 'n druknaam van NB-Uitgewers, kondig met trots die wenners van die 2021-Sanlampryse vir Jeuglektuur aan. Die pryse, wat ingestel is om oorspronklike en kreatiewe skryfwerk vir tienerlesers (12–18 jaar oud) en jong volwassenes aan te moedig, is op 20 November 2021 in Kaapstad toegeken. Die pryse word tweejaarliks vir nuwe manuskripte toegeken.

Twee wenners (goud en silwer) word in elk van drie kategorieë – Afrikaans, Engels en Afrikatale (Nguni- en Sothotale, Tshivenda en Xitsonga) – aangewys. Die totale prysgeld beloop R90 000.
Vanjaar se wenners is:
Afrikaans
Annerle Barnard van Bloemfontein, wat vir die tweede keer in hierdie kompetisie bekroon word, verower die Goue prys vir Spel. Die beoordelaars beskryf die verhaal as "spannende wetenskapsfiksie waar die kontras tussen modern en tradisioneel sterk na vore kom en kunsmatige intelligensie en menslike vermoëns teenoor mekaar opgeweeg en afgespeel word. Uiteindelik bewys die uiteenlopende karakters dat verskillende wêrelde tog kan saamwerk en in vrede die voortbestaan van alle lewe verseker".
Die Silwer prys is aan Betsie van Niekerk van Malmesbury toegeken vir Anderkind, '

n historiese jeugroman wat afspeel in die tyd van die Groot Griep in 1918. "

Wat die verhaal relevant maak vir lesers vandag is die oorlewingstema en die tema van die hersaamgestelde gesin wat saamsnoer te midde van swaarkry en so vir die karakters 'n nuwe lewe kan uitkerf". Betsie van Niekerk het vantevore in

1996 'n Sanlamprys verwerf vir Gamkab.
Engels
Die Engels-onderwyser Catherine Jarvis van Johannesburg wen die Goue prys vir The Swim Team. Beoordelaars beskryf dit as "relevant en kontemporêr" en prys die outeur vir haar knap hantering van kwessies van ras en bevoorregting in die koshuis van 'n eksklusiewe privaatskool.
Die gevestigde skrywer Penny Lorimer, van Kaapstad, wen die Silwer prys vir Luntu Masiza Tells the Truth, wat volgens die beoordelaars 'n lewensgids vir alle tieners behoort te wees. Hulle noem hierdie storie waarin Luntu sy eie verhaal openhartig met lesers deel verder "lesenswaardig" en "'n storie met hart".
Afrikatale
Debuutskrywer Sandile Ngwenya ontvang die Goue prys vir Imali Yezipoki ("Die spook/gees se skat"). Hierdie ambisieuse roman in isiZulu is Afrika-magiese realisme en riller tegelyk, waarin die mitiese-, realistise- en voorvaderryke op mekaar inspeel.
Die ontvanger van die Silwer prys is Thulani Simayile, 'n universiteitsdosent van Eersterivier, naby Kaapstad. UNolali, 'n roman in isiXhosa, kan vertaal word as "Plaasjapie". Dit handel oor weeskinders wat by familie grootword en deur eie familie misbruik word. Die beoordelaars het klem gelê op die tema van die impak van opvoeding op armoede en die belangrike boodskap wat die skrywer aan lesers oordra.
Die wenmanuskripte is deur Tafelberg ontwikkel en uitgegee, in sowel gedrukte as e-boekformaat. Manuskripte is anoniem gekeur sodat debuutskrywers op gelyke voet met gevestigde skrywers kan meeding.
"Die diversiteit van wenners in hierdie kompetisie jaar na jaar maak dit werklik 'n uitsonderlike prys," sê Michelle Cooper, Tafelberg-uitgewer. "Vanjaar se wenners strek van historiese- tot wetenskapsfiksie tot realisme in kontemporêre Suid-Afrika. Dit is 'n kaleidoskoop van jeugromans vir lesers van dié gewilde genre; jonk en oud."
Sedert die Sanlampryse in 1980 die eerste keer toegeken is, is nagenoeg 80 inskrywings vir skole voorgeskryf. "Dit bevestig die waarde van die kompetisie vir die ontwikkeling van plaaslike jeuglektuur van gehalte," sê Cooper. Op die lang lys van voorgeskrewe wentitels is onder meer Onderwêreld deur Fanie Viljoen, Praise Song deur Jenny Robson, Kungasa Ngifile deur E.D.M. Sibaya, SuperZero deur Darrel Bristow-Bovey en Lien se lankstaanskoene deur Derick van der Walt. Rolprente is ook van sommige titels gemaak, soos Lien se lankstaanskoene en Die ongelooflike avonture van Hanna Hoekom deur Marita van der Vyver.
Sydney Mbhele, Bedryfshoof: Handelsmerk by Sanlam sê: "Hartlik geluk aan al die pryswenners en deelnemers. Vanjaar is die veertigste jaar van ons vennootskap met NB-Uitgewers en ons bedank hulle vir die wonderlike werk wat hulle doen vir die viering van nie net jeugliteratuur nie, maar ook literatuur wat in Suid-Afrikaanse moedertale geskep word. Hulle vaardighede en talent is uitsonderlik.
"Die pryse is in perfekte ooreenstemming met ons doel by Sanlam: om alle Afrikane met selfvertroue te laat leef. Vandag se jeug leef 'n vinnige, dikwels digitale, lewe en literatuur is 'n kragtige middel om konteks en verwysingsraamwerke te bied om die wêreld mee te besigtig. Hierdie skryfstukke help lei en vorm die jeug en bou hul selfvertroue, en selfversekerde jongmense het die vermoë om hul volle potensiaal te ontwikkel en dapper die toekoms in te gaan!"
-----------
Winners of 2021 Sanlam Prizes for Youth Literature Announced
Sanlam and Tafelberg, an imprint of NB Publishers, are proud to announce the winners of the 2021 Sanlam Prizes for Youth Literature. The prizes, which serve to encourage original and creative writing for teenage readers (ages 12–18) and young adults, were announced in Cape Town on Saturday, 20 November 2021. The prizes are for new manuscripts and are awarded biennially.
Two winners (gold and silver) are chosen in each of three categories – English, African languages (Tshivenda, Xitsonga, and Nguni and Sotho languages) and Afrikaans. The prize money totals R90 000.
The winners are:
English
Johannesburg English teacher Catherine Jarvis won Gold for The Swim Team, described by the judges as "an extremely topical story that deftly explores issues of race and privilege, sketching out well-rounded and believable characters and convincing scenarios in the boarding house of a highly privileged school. It has a plot that resonates strongly with teen issues, particularly the contemporary issues of race in urban South African schools. The positive resolution of the story gives pause for thought – and hope."
Published author Penny Lorimer from Cape Town won Silver for Luntu Masiza Tells the Truth which, according to the judges, should be a pocket guide to life for all teenagers. "This heartfelt story explores the challenges of a fatherless teenaged township boy in a way that is profoundly relevant and universal. Deeply empathetic and wise, it maintains a light touch through the engaging medium of email, as the main character, Luntu, explores his own fallibility in an endearing style."
African Languages
KwaZulu Natal-born Sandile Ngwenya's Gold winner Imali yezipoki is described as an "African magical realism and rural-urban thriller. It explores African cosmologies and epistemologies to provide a three-world system occupied by three realms: the mythical, the ancestral and the living, all replete with a richly-textual linguistic discourse for each of these realms". This novel is written in isiZulu and can be translated as "The Ghost's Treasure".
Cape Town-based debut author and university lecturer Thulani Simayile won Silver for his novel UNolali (which can be translated as "Country Bumpkin"). The story addresses the way in which children are displaced after they become orphans, often victims of cruelty in their extended families. Judges highlighted that "the education theme is displayed in great light so as to emphasize its benefits and that despite troubles and other influences in life, at the end of it all, education is the one thing that will ensure that you reach your dreams".

Afrikaans

Bloemfontein author Annerle Barnard received her 3rd nomination and 2nd Sanlam Prize as she won Gold for Spel, described as "suspenseful science fiction in which contrasting worlds of the modern and the traditional come to the fore and artificial intelligence are weighed up against human ability".
Betsie van Niekerk, from Malmesbury, won Silver for Anderkind, a historical youth novel set in the time of the Great Flu epidemic of

1918. Judges commented that "the theme of staying alive in the face of great hardship makes the story relevant to readers today, as well as the notion of a reconfigured family eking out a new existence together

".
The winning manuscripts were developed and published by Tafelberg and are available in both print and digital format. Manuscripts were judged anonymously so that debut writers were able to compete on an equal footing with established authors.
"The diversity of each year's winners sets this competition apart from others," says Michelle Cooper, Tafelberg publisher. "Our winners range from historical to science fiction to realism in contemporary South Africa – a kaleidoscope for readers of Young Adult, a genre that has grown in popularity among all ages."
Since the Sanlam awards were first bestowed in 1980, close to 80 entries have been prescribed for schools, emphasising the value of the competition, says Cooper. Among the long list of prescribed prize-winning titles have been Praise Song by Jenny Robson, Kungasa Ngifile by E.D.M. Sibaya, Leba Seipone by Kabelo Duncan Kgatea, SuperZero by Darrel Bristow-Bovey and Lien se lankstaanskoene by Derick van der Walt. Some titles have also been made into films, including Lien se lankstaanskoene and Die ongelooflike avonture van Hanna Hoekom by Marita van der Vyver.
Sydney Mbhele, the chief executive: brand at Sanlam says, "A very sincere congratulations to all the prize winners and contenders. This year marks the 40th year of our partnership with NB Publishers and we thank them for the amazing work they do in celebrating not only youth literature, but also literature produced in South Africa's mother tongues. Their skill and talent are exceptional.
"This prize is perfectly aligned with our purpose at Sanlam: helping Africans live with confidence. The youth today live fast paced, often digital lives, and literature is a powerful grounding force, providing context and frames of references from which to view the world. These works help guide and shape the young and build their confidence. And confident young people are able to realise their full potential and move courageously into the future!"