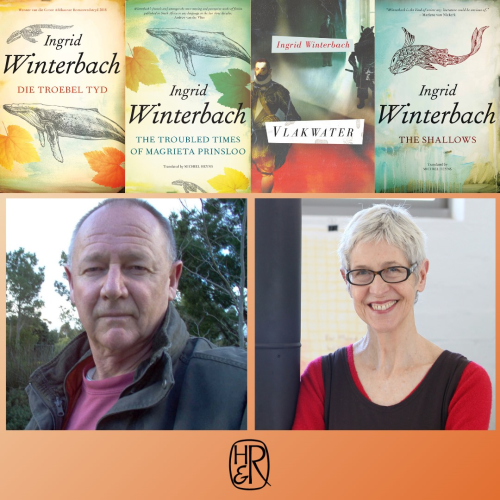 Ingrid Winterbach
04 November 2020
---
Human & Rousseau is happy to share some good news regarding Ingrid Winterbach's books:
* The Dutch rights to Die troebel tyd (The Troubled Times of Magrieta Prinsloo) have been licensed to
Uitgeverij Zirimiri Press
. Translator Robert Dorsman will be translating it from Afrikaans to Dutch, having previously done wonderful work translating Lien Botha's Wonderboom.
* Michiel Heyns has been awarded The English Academy Of Southern Africa's Sol Plaatje Prize For Translation 2019 for his translation of Vlakwater (Afrikaans) to The Shallows (English). Read the citation below to see what the judges said about his work, as well as his reaction.
PRESS RELEASE FROM THE ENGLISH ACADEMY:
English Academy Of Southern Africa Sol Plaatje Prize For Translation 2019 awarded to: Michiel Heyns for his translation from Afrikaans into English of The Shallows by Ingrid Winterbach, published by Human & Rousseau.
CITATION
The Sol Plaatje Prize for Translation 2019 is awarded to Michiel Heyns for his translation of this 'fantastical, absurd, yet haunting' novel. Heyns manages to capture the Winterbach-style, and the manner in which this parallel narrative interlinks the novel's characters and events with masterful storytelling. This was done in a manner that was not lost in its English translation and proves that Heyns is truly a Winterbach veteran.
Michiel Heyns is an academic, a writer, a reviewer and a translator of award-winning novels for which he has won many accolades. This is the second time Heyns has won this particular award, the first being for his translation of Marlene van Niekerk's Agaat into The Way of the Women in 2008, while his translation of Willem Anker's Red Dog won the SALA Prize for Literary Translation in 2018.
Judges: Dr Candice Livingston, Dr Amanda Swart, Prof. Louise Viljoen
Response to the award from Michiel Heyns:
I am very grateful to the English Academy for this unexpected honour. Translation tends to be the Cinderella of the literary arts, at its most useful when least visible. A translation that draws attention to itself is by that token a bad translation. It is thus gratifying when a translation does receive some recognition, and can for a moment share the limelight with the real star, who is of course the author of the original text. I have been privileged to translate any number of wonderful novels, and I remain grateful to their authors for giving me access to their creations. In this instance, I am particularly indebted to Ingrid Winterbach for her wry, laconic glimpse into a wholly unexpected face of suburban existence. As always with Winterbach, the subtle shifts of tone and the deadpan humour were a challenge and a delight.
Umberto Eco, multilingual author and translator, has called translation 'a negotiation between cultures', and it is in this respect that the existence of this award is so heartening: as a contribution to that negotiation which can only be beneficial to both cultures. I feel privileged to have been part of such a negotiation, and thank the English Academy for recognising its role in the cultural life of our country.