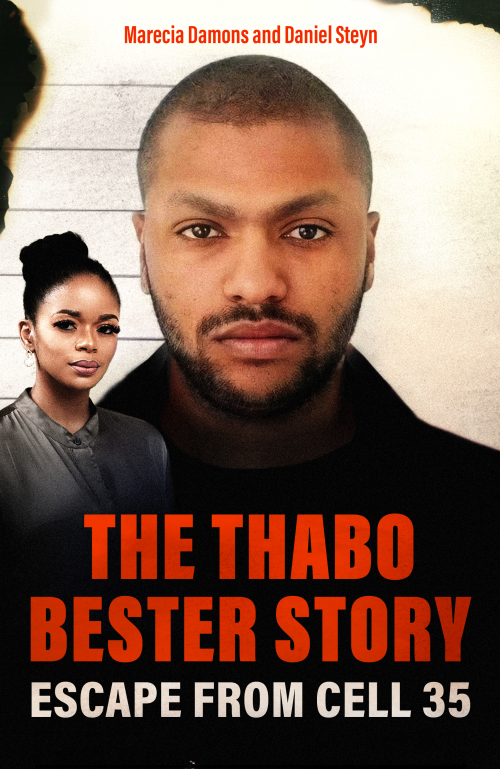 Breaking News: ON SALE TODAY
11 October 2023
---
The Thabo Bester Story: The Facebook Rapist, the Celebrity Doctor and the Escape from Cell 35
It is the quintessential crime story: murder, rape, cons, an improbable love affair, a prison break, a burnt body, a coffin filled with meat, a flashy lifestyle, and then a hasty escape in a black SUV through three countries.
The sensational escape of murderer and rapist Thabo Bester, assisted by his lover, society doctor Nandipha Magudumana, shocked South Africa and set social media alight. In The Thabo Bester Story, Marecia Damons and Daniel Steyn, the award-winning GroundUp journalists who exposed the couple's scams and caught the government sleeping at the wheel while Bester and Magudumana lived the high life in Sandton, go behind the headlines.
Here they tell the full story, from Bester and Magudumana's early lives, their unlikely love affair and the tragedy surrounding their many victims, to a web of complicity in South Africa's broken prison system. Incredible, but true.
Read how Bester and Magudumana threatened court action to stop the book release:
https://www.groundup.org.za/article/bester-and-magudumana-threaten-court-action-to-stop-book-release/
Read a GroundUp excerpt from the book here:
https://www.groundup.org.za/article/book-extract-how-thabo-bester-murdered-nomfundo-tyhulu/
About the authors
Marecia Damons and Daniel Steyn are journalists at GroundUp and part of the team that exposed Thabo Bester's faked death. They were the joint winners of the 2023 Nat Nakasa Award for Media Integrity for their work on this story.
Read about the award here: https://allafrica.com/stories/202309180038.html#:~:text=Marecia%20Damons%20and%20Daniel%20Steyn%20win%202023%20Nat,Nakasa%20Award%20for%20Media%20Integrity%20on%20Saturday%20night
For media enquiries, please contact Jean Pieters at
[email protected]